Calendar of our French lessons
Calendar of our French lessons
Day courses
A session includes 4 weeks of day courses. If you register for 2 weeks, you will be enrolled in half of a session. Complete beginners have to start at the beginning of a session.
Evening courses
The duration of the courses is 1 month minimum. 
Closing days
The Alliance Française Lyon is closed on public holidays.
Please note there is no discount or a postponement on courses when the school is closed because of public holidays.
2022
Day courses
 


 




 




 




 




 




 




 




 




 




 




 




 




 




 




 




 




 




 




 




 




 




 




 




 




 

Evening courses
 
From
To
From
To
Session

 

1

 

January 3rd

January 28th

January 4th

January 27th

Session 

2

 

January 31st

 

January 25th

February 1st

February 24th

Session 

3

February 28th

March 25th
March 1st
March 24th

Session 

4

 April 4th
April 29th
April 5th
 April 28th

Session 

5

May 2nd
May 27th
May 3rd
May 24th

Session 

6

 June 7th
July 1st
June 8th
June 30th

Session 

7

 July 4th
 July 29th
July 4th
July 15th
No courses during summer time
 July 18th
July 29th

Session 

8

August 1st
 August 26th
August 1st
August 12th
No courses during summer time
August 16th
August 26th

Session 

9

 August 29th
 September 23th
No courses during summer time

Session 

10

October 3rd
October 28th
 October 4th
October 28th

Session 

11

October 31st
 November 25th
November 3rd
November 24th

Session 

12

November 28th
December 23rd
 November 29th
December 22nd
2023 calendar - Day courses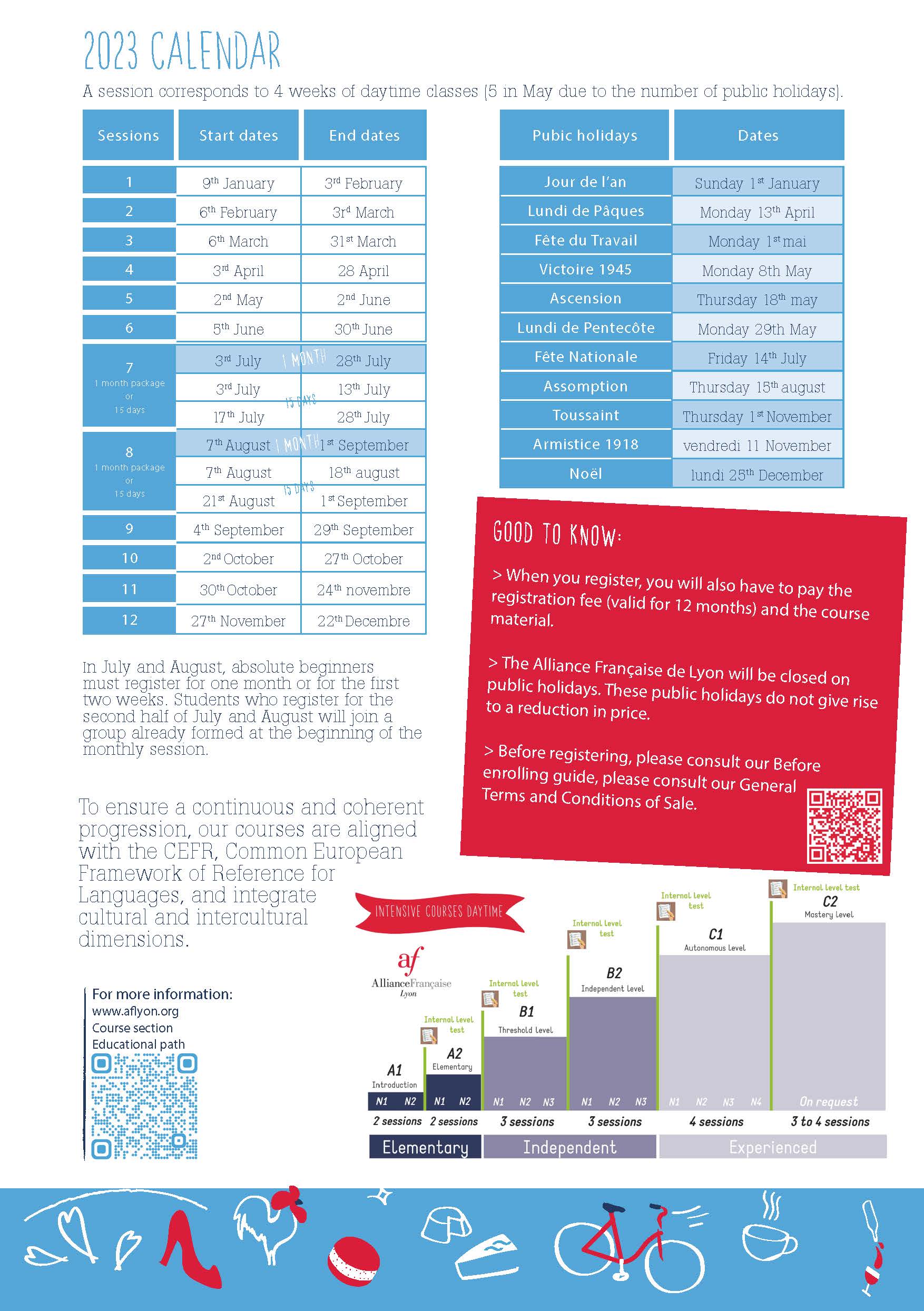 ---