Learn French while discovering French culture and gastronomy !
Spending winter in France is ideal to discover (very) cheezy recipes ! Enjoy 😊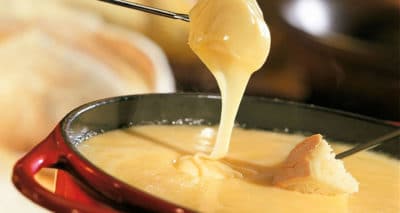 1. Raclette
The most classical winter cheese meal with raclette cheese, potatoes, cold meats and gherkins. You can also add, if you want to, some vegetables such as mushrooms or broccolis. It's a very easy, fun and friendly meal to prepare. But be careful, you'd better learn all the codes ☺
Up for a raclette? This is a must to share with friends !
2. The fondue 
What would be a winter season without a fondue?! Well known as a ski resorts' tradition, the fondue is a mix of various melted cheeses (Abondance, Beaufort, Comté). Invigorating and fun, you can play while eating : the one who gets the piece of bread lost into the cheese gets a forfeit. Just watch this…
Discover how to cook the Fondue : a very tasty platter !
3. The tartiflette
Queen of all the Mountain meals, the tartiflette will stick you to your chair after diner. Don't mind the heavy smell of reblochon, it tastes just so good! If you want to eat as a local, you can try a different recipe using crozets (typical Savoie pasta): the croziflette.
Are you up for a tartiflette ? Great idea : you will only need an oven to melt the cheese !
---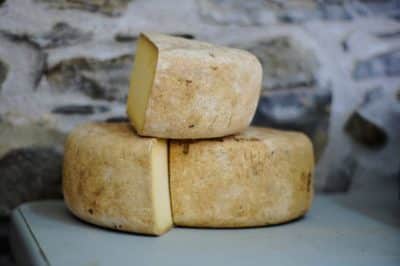 4. Cheese soufflé
For cuisine lovers, the cheese soufflé is a sophisticated and delicated meal. Easy to cook, you will turn into a Michelin-starred chef!
The soufflé au fromage is the most delicate cheese platter. It will probably impress your guests, served with salad as a side
5. The roasted camembert
International French cheese star, you can also eat camembert the oven-cooked way. Taste it, it is so delicious! With honey or cherry jam, the roasted camembert is perfect for a friendly apertif and is very easy to cook.
Nostalgic of your French experience ? This roasted camembert recipe can be cooked worldwide and will bring you the best memories !
---
Important, we advise you to open your windows after cooking…