Projection
Screening on Wednesday 26, July 2023
Meet in the lobby at 2pm
Screening hosted by Valentin
Film : L'auberge espagnole
Directed by: Cédric Klapisch
Genres: Dramatic comedy & Romance
Level: from A2
This month the Ciné club 📽️ offers you :
👇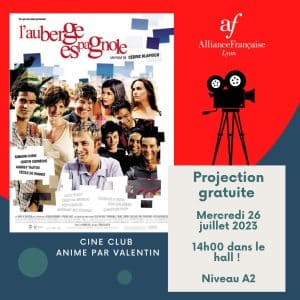 Xavier, a young man of twenty-five, moves to Barcelona to complete his studies in economics and learn Spanish. He needs to learn Spanish in order to take up a position at the Ministry of Finance, which a friend of his father's has promised him. But to do so, he has to leave his girlfriend Martine, with whom he has been living for four years.
In Spain, Xavier looks for accommodation and finally finds an apartment in the center of Barcelona, which he plans to share with seven other people. Each of his co-tenants is from a different country.
Discover the trailer 👇