Updated on 14 march 2022
The Alliance Française de Lyon is adapting to the governmental measures, we invite you to regularly consult the governmental website for more information on the situation in France.
Since 16th february 2022, new procedures apply to international students and researchers who plan to come to France. They are different depending on their country of origin and their vaccination policy.
More information here
Health pass:
The health pass is still compulsory in France for access to different venues, establishments or events, indoors or outdoors, without any notion of gauge. click here to find out more.
In the Alliance Française of Lyon :
We recommend that you use the hydroalcoholic gel provided at the entrance to the establishment.
CLASSES: classes (day and evening) will continue to be held in person at the Alliance Française. In case of a positive case of covid 19 in the class, the classes will be maintained but online according to the immunization schedule of the course participants (students and teachers) as stated on the French government website
EXAMS: the exams scheduled at the Alliance Française de Lyon are maintained. Only candidates will be allowed to enter the school provided they respect the protocol defined by France Education Internationale (FEI).
Thank you for your understanding.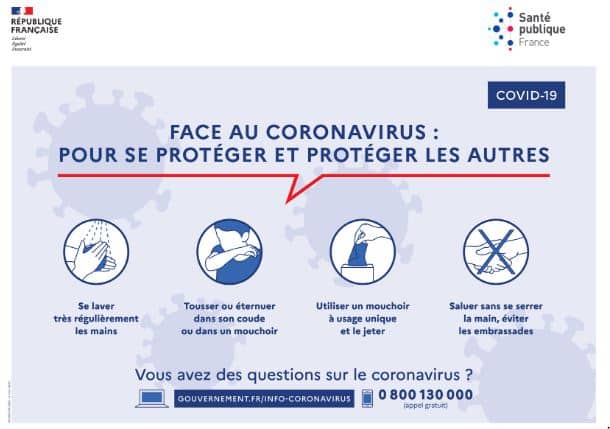 In case of symptoms (fever or feeling of fever, cough, breathing difficulties), it is recommended to:
Stay at home, avoid contact and limit your movements to what is strictly necessary.

Call your doctor

Contact the Samu Centre 15 in case of breathing difficulties.
In your daily life, here are the gestures to respect to preserve your health and that of your entourage:
Wash your hands very regularly.

Cough or sneeze into your elbow or into a handkerchief.

Greeting without shaking hands, avoiding hugs

Use single-use tissues and throw them away.

Wear a mask when the one-metre distance cannot be respected
In case of a positive test, please inform the school's teaching staff as soon as possible (pedagogie@aflyon.org).
The Alliance Francaise de Lyon maintains its face-to-face courses and exams. The barrier gestures are to be respected within the school.
---