Updated on april 1st, 2021
Here is the latest information from the government:
France has been placed under "reinforced braking measures against Covid" for 4 weeks:
Going out and travelling without a derogation certificate is forbidden from 7pm to 6am on the whole of the metropolitan territory under penalty of a fine of €135 and up to €3,750 in the event of a repeat offence.
Outside travel during the day must be limited to a radius of 10 kilometres.
Beyond this distance from home, a derogation certificate will be required.
Tick 6. Professional activity, teaching and training, mission of general interest to go to the Alliance Française.
Essential shops remain open
We invite you to consult the government website regularly for more information on the French situation.
COURSES :
The day's classes (general language and complementary courses) will be at the Alliance française for the moment


Wearing a mask is compulsory throughout the course.
The evening course will be online until further notice.
EXAM :
The exams scheduled in the premises of the Alliance Française de Lyon, are currently maintained.


Only candidates will be authorised to enter the establishment.
Wearing a mask is obligatory throughout the entire duration of the exams.
Thank you for your understanding in this new situation.
We invite you to regularly consult the government website for more information on the French situation.
---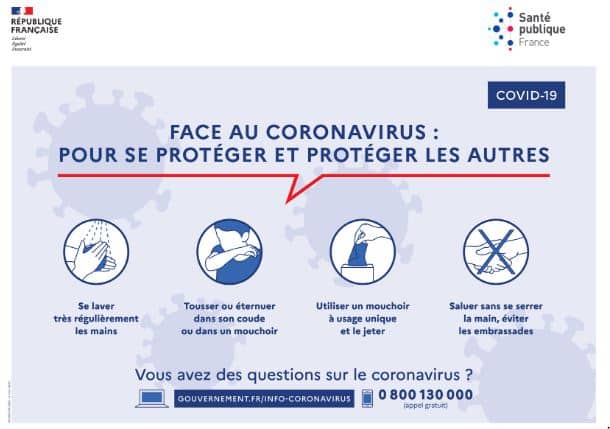 If you experience symptoms (fever, cough, breathing difficulties), it is recommended to:
Stay home, avoid any contacts and go out only if it absolutely necessary
Call your doctor
Dial 15 to speak with emergencies if you experience breathing difficulties
Actions to protect yourself and others in your daily life :
Wash your hands with soap and water regularly or use a hydro-alcoholic solution
Avoid touching your eyes, nose, and mouth.
Cover any coughs and/or sneezes with a tissue then throw the tissue directly in the trash.
Frequently clean and disinfect surfaces that may contain germs.
Wear a face mask when it is not possible to respect the physical distancing of 1 metre
---