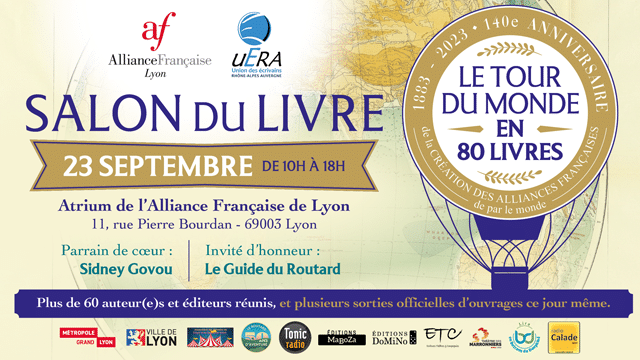 EVENT
The Alliance Française de Lyon's new literary season
Come and discover over 60 regional authors and publishers at the Alliance Française de Lyon's new literary season.
Jules Verne, the inspiration behind so many daring and innovative ideas, was the inspiration behind the title of this event, based on the theme of travel. The event is sponsored by the Guide du Routard and Sidney Govou, international football player, is a special guest.
The Alliances Françaises network is made up of more than 800 branches around the world, which this year are celebrating the 140th anniversary of the creation of the first of these institutions and the establishment of this network, which represents the main cultural NGO.
On 23 September 2023, from 10 a.m. to 6 p.m., the Alliance Française de Lyon is organising its "rentrée littéraire" (literary season) and is offering you the chance to take part in the launch of several books and to talk to the authors and publishers present at the Salon du livre (book fair) in the Atrium of its premises on rue Pierre Bourdan.
We look forward to seeing many of you on this day dedicated to literature and a journey through the French language.
---