International Dinner Party on Wednesday, November 15, 2023
In the lobby at 6:30pm 
Let's share our culture through gastronomy!
International Dinner !
👇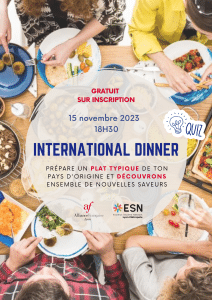 In collaboration with ESN Cosmo Lyon, the Alliance Française de Lyon is organizing an International Dinner! 
The aim of this evening is to introduce participants to typical dishes from your home country!
Everyone brings a speciality (starter, main course and/or dessert) from their own country to share a meal together!
It's an opportunity to discover new people and cultures!
Free with registration